How To Plan Lighting For a New Home?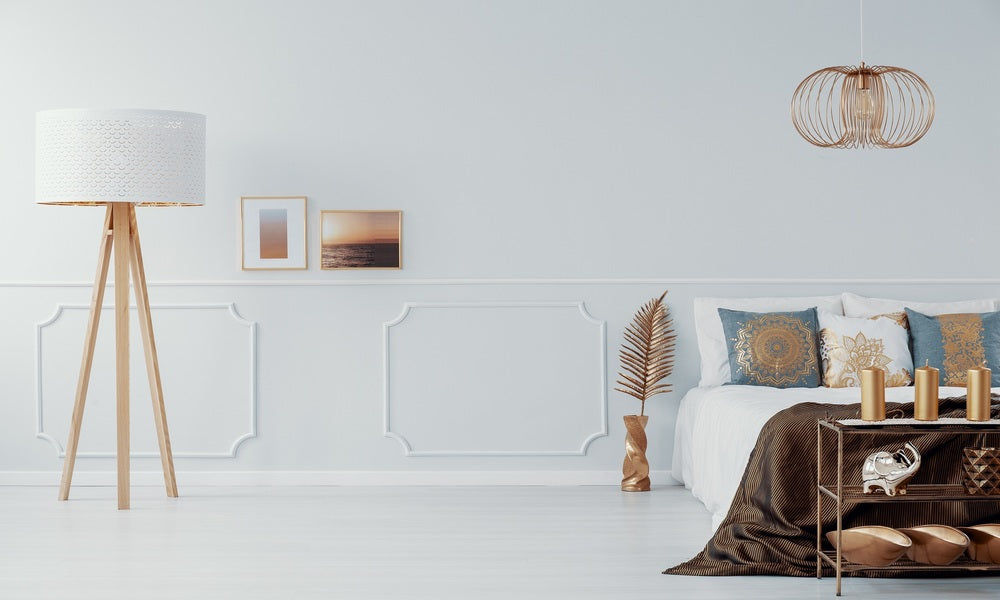 Creating a lighting plan for your new home can be an exciting experience. Although decorative trends come and go it's important to figure out what type of interior design really reflects your taste. After all, your home is the place you spend most of your time. That being said it's important that home lighting planning is thought of in advance. 
There are numerous types, shapes colors and sizes that will go ideally with your overall interior design. From replica pendant lighting to table lamps the possibilities are endless.
Making the right choice that's going to reflect who we are and how we want to live is an essential part of unique interior design.   
When designing lighting for a new home it's important to have a few things in mind. You want it to be functional, a good financial investment, and of course, you'll want to feel comfortable in your new home. That's why creating your own lighting plan will bring a certain charm to your residence and will be customized just for you. 
Here we are going to explain to you all the crucial factors you'll need to have in mind when decorating your home. Although the style of your residence is very important, it's also important to know how to create a plan that is also going to be highly functional and beneficial for you. That's why we are going to cover different aspects of planning your home's lighting. 
So, without further ado let's start planning! 
 Lighting plans
Ideally, your home should look absolutely to your liking. Whether you are into bohemian style, industrial, modern, Scandinavian, urban modern or shabby chic. Each of these types of interior designs has special lighting plans that you can achieve by simple and effective planning. Here, you are going to find out everything you need to know about this topic. And we are going to teach you how to perfectly plan lighting. 
What is a lighting plan?
Simply, a lighting plan is the process of creating an ideal lighting scheme by yourself or with your electrician or interior designer. It involves different aspects of lighting including the basic types of lighting, thinking about the right lighting fixtures, where they are going to be placed in your indoor space, what type of light bulbs you'll be using, lighting control, etc. This may sound like it's too much work but when you are creating an ideal atmosphere for your home nothing's too much work. It also involves types of new lights and budgeting.
How do you make a lighting plan?
When lighting a room it's crucial to not get tempted to go to your nearest lighting store. Your starting point, when getting into the design process, is to understand what you want to light up, what are the spaces in your house that you want to look especially beautiful or to be exceptionally functional and then you should think about certain lighting fixtures.
You should start by thinking about different parts of your space and what activities are done in each room. Design is there to accommodate your particular needs for different indoor spaces. To give a quick example, people usually spend their day in the living room, prepare food in the kitchen and their bedroom is for sleep and relaxation. 
So, naturally, home lighting should be convenient for different types of atmosphere or functionality in a room. 
These are the steps you can take when creating a lighting plan.
1. Understand basic types of lighting
Understanding the three basic types of lighting will help you to easily decorate your home in the most convenient and beautiful way. There are three types of lighting and they are ambient lighting, task lighting and accent lighting.

2. Know your budget


When creating new home lighting it's important to have in mind your budget options. This includes the pricing of lighting fixtures of your choice and the type of bulbs you are going to use.

3. Choose the right lighting fixtures
When planning your interior it's very important to choose the right lighting fixtures. They should not only be beautiful but should be energy efficient and according to the type of lighting you'll want for each room.

4. Choose the right light colors
Choosing the right light colors can make a big difference in your room. Depending on your personal preference you can choose warmer or cooler tones.
New home lighting
If you follow the steps we provided for you above new home lighting shouldn't be a problem at all. Understanding different types of atmosphere lighting can bring is important if you want to have both functionality and beauty. Ambient lighting illuminates the whole space and is usually used for living rooms and the lighting fixtures are usually ceiling-mounted, recessed lighting, wall sconces, etc. Task lighting is targeted for a particular area and is usually used in the kitchen as under cabinet lighting or in the living room as a reading lamp. Accent lighting is used to highlight something in a room like a piece of art, trophies, diplomas etc. 


What is the best lighting for your home?
The most widespread and probably the best lighting for your home is LED lighting. They are proven to be more energy-efficient, good for the electricity bill (meaning it will be lower) and have come far since the days of the unnatural color of light. They have fantastic life hours of 25,000 hours and have warm color schemes resembling incandescent light. Apart from LED, you can also consider incandescent, halogen, fluorescent and xenon. But new LEDs are definitely the winner in many aspects. 
How do I light my house?
Just like the new technologies are creating many options for light bulb types, they are also transforming the lighting control. From the toggle to the new and fantastic dimmers and keypads. The world of lighting control has definitely updated the way you can turn the lights on and off. You can choose to light your house by having a chat with your electrician and discuss all the possible ways. You can choose the classic switch, dimmers or keypads. Dimmers are great for energy savings and you get to control the lighting. And keypads are the ultimate modern way of lighting your house as they can be adapted for smartphones as they work on wireless technology.  
How do you calculate lighting req
uirements?
This is crucial when planning lighting. The process is pretty simple to follow. You can use the following table to find how many footcandles or lux you will need. First, calculate the number of lumens you need. Then multiply the area in square meters by the lux or the area in square feet with the foot candles. This will help you to work out how many bulbs you need. Finally, you should divide the number of lumens by the number of lumens delivered by a bulb and you'll know exactly how much lighting you will require. 
| | |
| --- | --- |
| ROOM | FOOT CANDLES NEEDED |
| Living room  | 10-20 |
| Kitchen General  | 30-40 |
| Kitchen Stove | 70-80 |
Design plan lighting for home
You can begin designing a lighting plan for your home methodically. Go through your plans and in each room of your house and ask yourself questions like -- What am I going to use this space for? Where will I place pieces of furniture? Are there going to be some art pieces hanged? Who is this room for? The answers to these questions will help you determine whether you are going to go for ambient lighting, task lighting or accent lighting. Also, it will help you determine the type of light bulb you will want to use and lighting control. Plus you should always have in mind permanent fixtures like windows and doors when you plan lighting. 
How do you design interior lights?
Start room by room. Determining what type of lighting you want for each room is the best way to go. Then you can think about different types of lighting fixtures that will be ideal for that particular space. Also, think about the overall style you want to achieve when thinking about investing in lighting fixtures. There are numerous types of lighting fixtures that can absolutely complete the look of your new home. You can think about the following lighting fixtures and follow some of these tips: 
This type is mostly used for ambient lighting. Architectural lighting has indirect lighting that minimizes shadows and glares which looks absolutely stunning. 
This type is mostly used for ambient lighting but it can also be used for task and accent. They are installed above the ceiling and are usually focused. 
Track lighting is used for task or accent lighting and is ideal when you need very focused lighting like in the kitchen. It is also very adjustable.  
This type is used in the kitchen as task lighting. 
Pendant lighting is usually used as ambient or task lighting. Because of their various style designs, they can really make the room shine. 
You should think about the different types of globes as they perform very differently. According to the type of lighting you want to choose the right type of globe. 
Always think about positioning because the way you arrange them will have all the difference when it comes to the light in your home. 
If you plan for efficient lighting it will save you a small fortune in the future. So think about investing in LED globes and CFLs as they are incredibly more efficient. 
How do I choose an interior light?
When planning for new home lighting you should think about different types of lighting fixtures. But always have in mind what kind of atmosphere you want in your room. You can choose from different types of chandeliers, pendants, wall sconces, desk, floor and table lamps. The general rule of thumb is that your lighting fixtures should either perfectly blend with the rest of your space or really stand out. So make sure you go through all types of interior design from minimalist to bohemian chic and decorate accordingly your new house. 
How do you update the lights in your house?
If you ever catch yourself enjoying a home décor magazine or are scrolling through Pinterest pinning wonderful pictures of interior spaces you are not alone. And you can also have just the type of light you want in your house very easily by updating it. Remember to always change your light bulbs on time. It will make an enormous impact on the general illumination of your home. Decorate your home with beautiful and new lighting fixtures. And remember to include all the three basic types of lighting into your home.